Jacobin
To End the Insulin Crisis, We Need to Divest From Diabetes Nonprofits
Read the article
here
.
Writers: Robin Cressman and myself
Illustrator: Janina Gaudin
Art Director: Myself
Spring 2022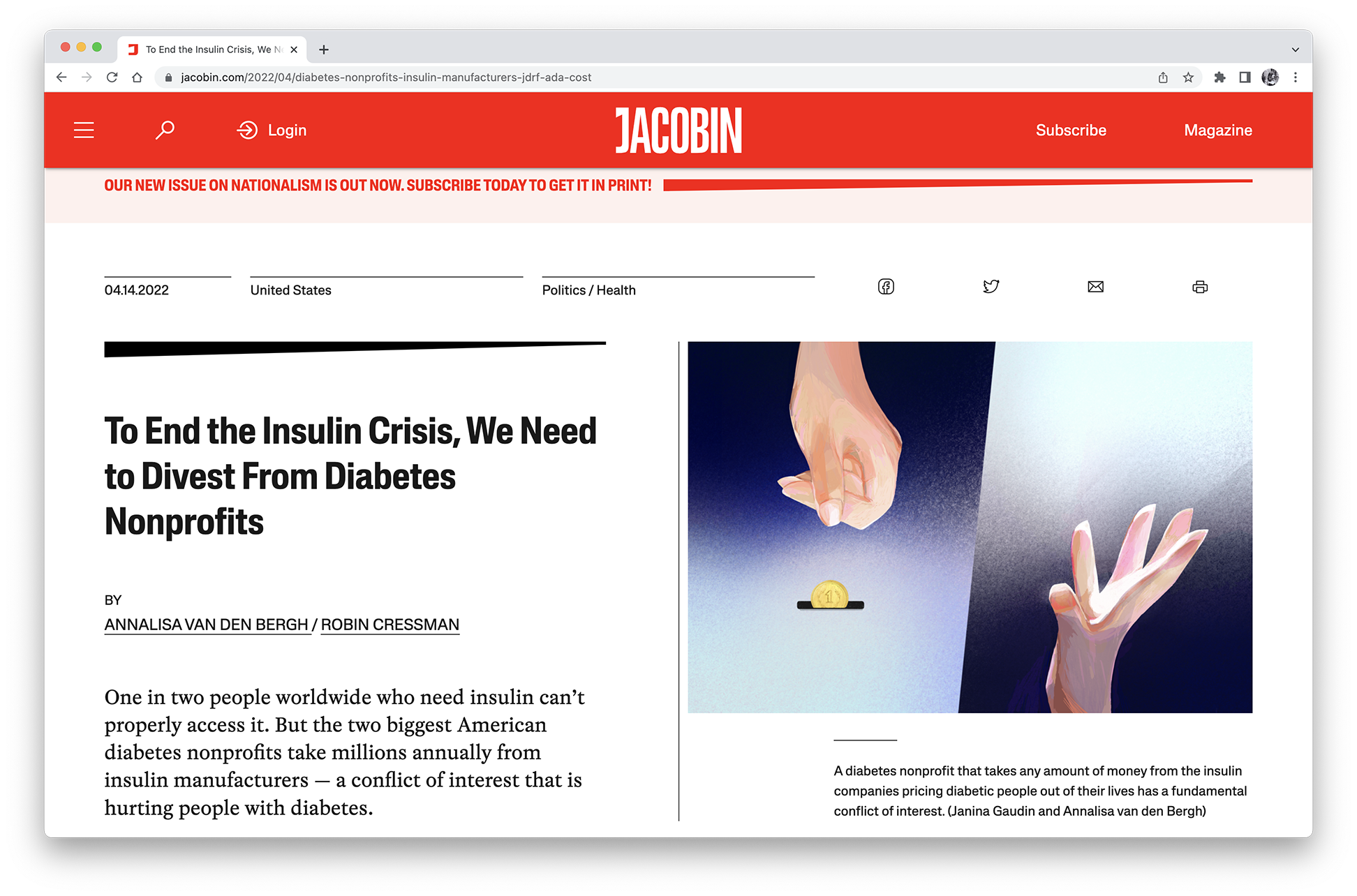 I was burnt out from diabetes and advocacy when I gave my pal Robin Cressman a call in late October of 2021. I told her I'd always wanted to pitch out an essay examining how diabetes nonprofits are enabling the insulin crisis. But I was running out of steam.
"Well," She said, "Do you want to team up on it?"
After sending 20 pitches into a black hole, I called my dad happy sobbing. The Washington Post had picked it up. Through the holidays, we spent hours on calls with advocates, former JDRF staff, and Beyond Type 1 cyclists. We turned 30 pages of notes into 1200 words.
Our piece was set to publish in March – until our editor received an unprecedented barrage of comments from JDRF & the American Diabetes Association (likely written by their PR firms) which would have required an extensive rework with no guarantee of publication: An incident that itself proves the power and censorship these organizations wield.
Back to the drawing board. Tears, arguments, high blood sugars. (No wonder so few advocate.) 34 more pitches later, I couldn't help but wonder,
is everyone's silence being bought?
I've realized and accepted though that the
majority
will be rejection.
Keep pushing through it.
In early April, I refreshed my email for the 1000th time to find Jacobin was interested. Lesson learned: Focus on the good, the genuine souls, and the fearless publications with integrity. Focus on the truth because it will win in the end.
I messaged diabetes advocate and artist Janina Gaudin across the world in New Zealand to see if she wanted to work together on the illustration for the article. I got a yes within seconds. She may live in a country with universal healthcare, but her advocacy is fueled by knowing the precarity of diabetes.
The thing is, we don't even need these nonprofits to form community because we've got it all around us.
"Remember the orgs exist because of us," Lauren Tripp once wrote on Instagram, "We don't need to 'live beyond' our disease. People with diabetes are already a force to be reckoned with and if we unite, amazing things can happen."